Snakestuck
This is basically a Homestuck Snake Game based on the very old DOS game Nibbles which I loved as a kid and I could never find something like this again when I tried searching for it occasionally. For me the level based approach has always been more fun than the endless mode you usually have with snake games. So eventually I decided to create one on my own. And then it turned out to be a bigger project than initially planned because I added all the lands of each character and a lot of characters with different outfits throughout the game.

You can choose your favourite Homestuck character to play through the 10 stages. The second character you choose is the one you 'rescue' in the end.

In every stage you have to collect a certain number of items to reach the exit gate (or the quest bed). Various collectibles create different chain lengths to give it a bit of variation.
This is my first upload to itch.io so a friendly hello to everyone. Feel free to comment if you like it or want to tell me about bugs etc.
As for features I probably won't add anything more, I consider this done for now.
Side note: It personally bugs me that the sound can only be turned off at the start menu but it's too much work for me to change that now (I somehow always have difficulties with working with sound so it would take too long). So I'm sorry about that but please bear with it.
PS: A little easter egg when you press P or J on the character select screen you can play as my 1920's Dirk Strider and the Jake who met him. They are from later parts of my comic A Second Chance (starting with Act 2, right now I'm still at Act 1, getting close to the end of Act 1 though) so this is basically just for the few people who know them (and myself). There is no questbed and background change in these ones.
Created with Scirra Construct 2 in October 2014
Art and Coding (c) me
Homestuck (c) Andrew Hussie
Music credits in the game (because there are so many)
This is a Homestuck fan game. Not making any profit from it.

Comments
Log in with itch.io to leave a comment.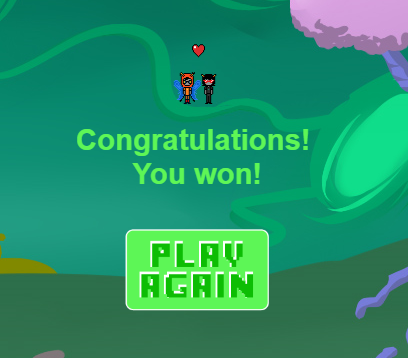 i loved the game! it was very fun and challenging. here is me making vrisrezi canon :p
Great snake game and great music! Not many snake games have levels these days. Would you be interested in making a downloadable version for Windows?